Home
›
Products
›
Gf-20-properties-ebook-combo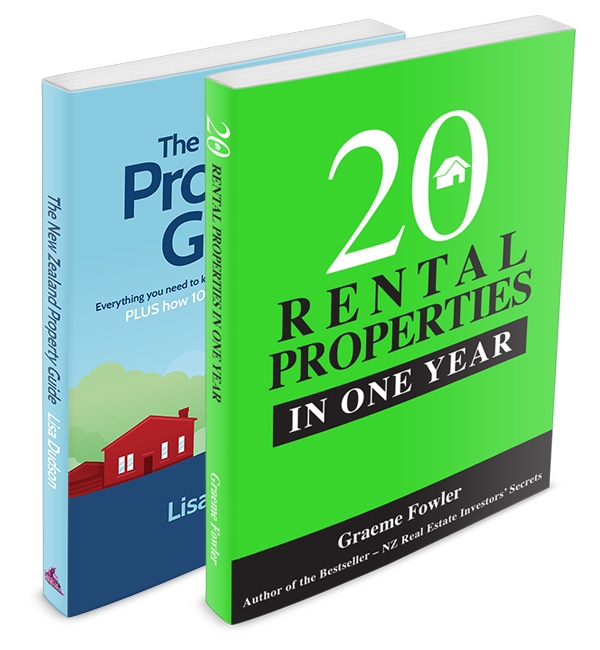 Ebook Combo
$30.00
NZD


Approx $18.47

USD
Blurb: Two books that compliment one another very well.
The New Zealand Property Guide will give you an introduction to all that goes into successful investing in New Zealand and 20 Rental Properties in One Year shows how a well thought out strategy can deliver extraordinary results!
Book Author: Graeme Fowler & Lisa Dudson
Product Type: Ebook

Description:
Two ebooks that compliment one another very well. 20 Rental Properties in One Year shows how a well thought out strategy can deliver extraordinary results and The New Zealand Property Guide will give you a thorough introduction into the fundamentals of property investment in New Zealand.
20 Rental Properties in One Year
By Graeme Fowler, Back Cover
Best Selling author Graeme Fowler had the idea to see if he could buy 20 properties using no equity (money) where the rents from these properties would need to cover the mortgage, the rates, the insurance and property management and all mortgages be fully paid off in 20 years time.
This is a very informative, in depth and detailed journey of exactly how Graeme achieved this goal in only 12 months. There is a breakdown of each purchase and also included are detailed spreadsheets of all the properties summarised with purchase prices, equity gained, cash-flow and the loan details.
Graeme regularly writes on property and its related topics is often featured in Property Magazines. In this book he shares many of these informative and very well thought out articles for the reader to enjoy, and learn from.
Some of these articles include:
Getting Started in Property Investing
LVRs
Building a Solid Foundation
The Pitfalls of Goal Setting
What could You do with $60,000 cash?
What's the Real Estate Market Doing!!??
Plus many other articles including one by his partner Katrina entitled "Kids and Money".
For any person interested in Property or Property Investing, this book really is a must read.
The New Zealand Property Guide
By Lisa Didson Back Cover
A great resource for both those considering property for the first time and those that have been investing for a while. There are many things that help an investor increase their chances of success. This practical hype-free book is full of information that will help you understand:
Why property is such a great investment
How property makes money for you
The mindset you need to be successful
How to set clear goals
The various property strategies and how they each may work for you
The ins and outs of tax and structures
The risks involved and how to mitigate them
How leverage works and how you fund your investments
The legal process and what due diligence you need to do
How to manage your property to ensure you get great long term results
And most importantly how to understand the numbers and maximise the profits you can make
The New Zealand Property Guide also has real life stories from ten very different property investors including:
How and why they got started
What worked for them and what didn't
What they did
Their advice to others