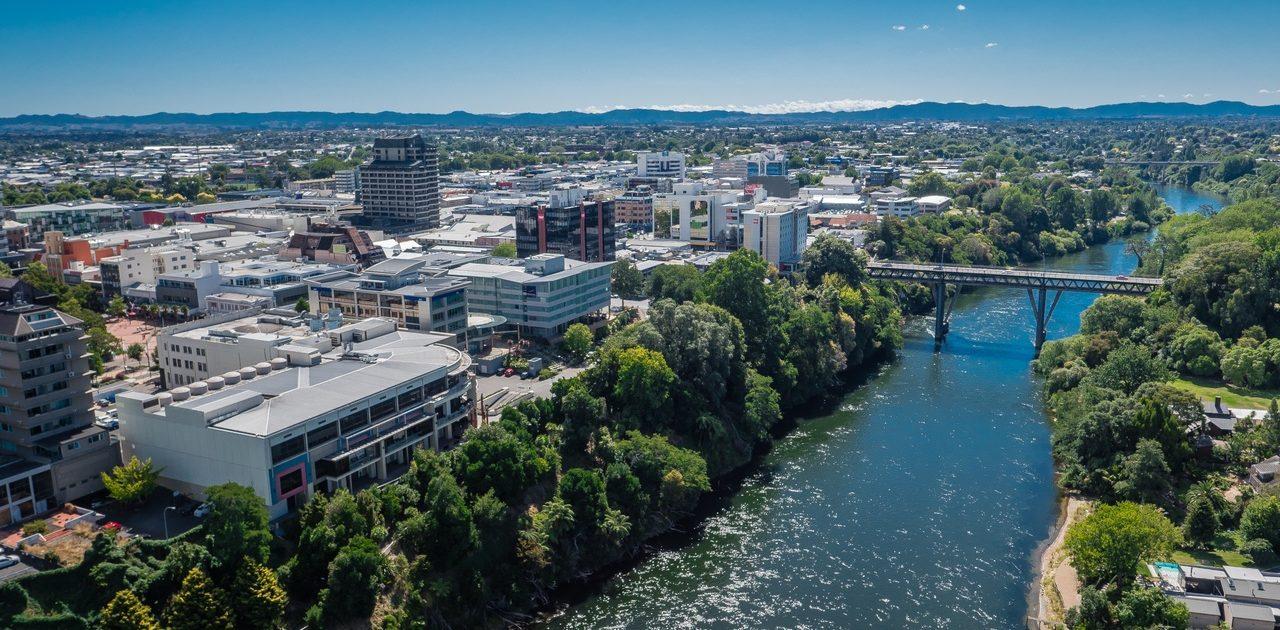 Watch the below short snapshot into Hamilton's economy and understand why this is the city of growth, opportunity and innovation, making it wise as an investment.
Nestled in the heart of the Waikato in New Zealand, Hamilton is a growing city with a range of opportunities for investors. It's a city of growth, opportunity and innovation, and the perfect place to build your future.
Hamilton is New Zealand's largest inland city with the Waikato River running through the middle. More people are moving here as it's a modern, innovative city with affordable living costs and thriving businesses. Hamilton's economy is strong, diverse, flourishing and part of the 'golden triangle' of economy and freight with Auckland and Tauranga. The golden triangle accounts for two-thirds of all freight in New Zealand. Hamilton is also home to some of New Zealand's more innovative and export-driven companies and research institutes.
The proximity to international ports and New Zealand's busiest international airport mean we're highly connected to the rest of the world.


Hamilton at a glance
Population
165,400 (QV June 2017)
Tertiary Education
University of Waikato
Waikato Institute of Technology
Main Industries
Agriculture, Dairy, Horticulture, Manufacturing; Retail sector, Construction
Rail
Kiwi Rail
Public Transport
Busit for bus services.
Property Market Characteristics
Looking at things long term for investors, it's clear right away that rental and property prices in Hamilton are already on the rise, especially if a property has been well maintained. As an investor you'll reap your ever-growing reward as both income and property capital continue to grow here.
Need further convincing? Let's take a quick look at what Hamilton has got in store for potential investors.
To start, Hamilton is by no means a 'small town', coming in statistically as the fourth largest urban area in New Zealand with a predicted population increase of 181,000 by the year 2030.
Let's consider Hamilton's placement, located in the heart of the Waikato, one of New Zealand's richest regions, responsible for 20% of the country's total exports. Agriculture, biotechnology, light aviation, transport logistics, science research, education and healthcare lead the Hamilton economy, providing diverse employment opportunities in the city. Residents also get the best of both worlds living the city life while being surrounded by rolling emerald green hills and bush. Proximity is another
appealing plus, as you're only an hours drive away from Auckland and a short 60 minute drive away from the sunny Bay Of Plenty.
People are flocking to Hamilton for one word: opportunity. Working men and women find opportunity in the form of jobs, and students are flocking by the thousands for the reasonably priced education on offer for them at The University of Waikato. So where's the opportunity for you, the investor? Just a few more words: rental property.
The key to clever property investment is to invest in a growing market such as Hamilton, where the demand for property and rentals is increasing steadily every day. If you are ready to jump on this gem of an opportunity, get in touch with Ben and secure your spot in the Hamilton house market race today!
The Different Areas
Eastern Hamilton
Rototuna/Flagstaff/Huntington
North East of Hamilton – newer development and construction
Tenancy – very popular due to modern, low maintenance properties, good schooling and new development
Chedworth/Chartwell/Queenwood
South of Rototuna
More established area of Hamilton, good schooling, handy to Westfield Shopping Centre
Fairview Downs
Very close to the Ruakura Inland Port which starts in 2019, supporting 12,000 future jobs
Range of housing quality and prices

Fairfield/Enderley
Low socio-economic area
Property prices are a lot lower
Hamilton East
One of the first areas settled in Hamilton, some areas of historic villas that have been very nicely refurbished
Range of housing quality and prices
Hillcrest/Silverdale/Riverlea
Services both University and Hillcrest High School
Large amount of modern development in the University area
Variety of housing available and prices
Western Hamilton
Pukete
North West Hamilton – handy for The Base shopping centre
Relatively modern properties and a very popular area
Bryant Park/St Andrews
More established area of Hamilton, not as modern as Pukete
Areas of cheap housing and expensive sought after streets
Forest Lake/Maeroa
Areas of modern and dated housing
Close to City Centre and also the Western Bypass
Nawton
Low socio-economic area
Property prices are a lot lower
Some modern areas that are nicer
Dinsdale
Areas of working families and lower income families
Rental rate medium
Popular for tenants wanting units
Western Heights
Modern properties with good rental returns slightly lower than Rototuna
High demand for quality properties
Frankton
Has been rezoned as residential high, resulting in a lot of new developments, 2-3 bedroom townhouses, good schooling.
Hamilton West/Lake
Higher priced properties as handy to CBD and also those surrounding the Hamilton Lake with views
Tenancy - older professional families/couples
Melville/Bader
Low socio-economic area, areas closer to the Hospital are under development with new townhouses and are popular with Medical Staff with good / higher returns
High demand as close to hospital
Deanwell/Glenview
Areas of lower income families moving into established family homes to the South
Glenview is a very popular area for families who tend to move into the area and stay, good schooling
Maps: Hamilton Suburbs | Region

Articles Featuring Hamilton
Hamilton Property Market Update June 2019
Hamilton is currently experiencing a consistent slow-burn in terms of price growth. Over the last 12 months it has experienced capital growth levels of 4.5%, outperforming the other two cities in the 'Golden Triangle'. Read More…
Hamilton Properties for Sale
All our Hamilton properties have SOLD. Make sure you are added to our Hamilton Hotlist of buyers who get first notification about new properties to ensure you don't miss out.
How to Invest in Hamilton
iFindProperty is a licensed real estate agency and we cover all of the Hamilton region. Ben is an investor himself and the best in the business at helping other buy, or sell, Hamilton investment properties.
For Vendors
iFindProperty runs a full-service property sales operation. Work with an agent who understands property investment and how to market your property to other investors, in a way that doesn't upset your tenants!
Please contact Ben below or enquire through our website.
The Hamilton Team