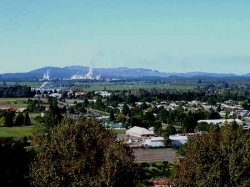 With rental housing costing about 33% (and climbing) of Auckland incomes, it is no wonder people are choosing to relocate elsewhere. Tokoroa is a market that is affordable and offers great yields. Tokoroa is within 1 hours drive from Hamilton, Tauranga, Rotorua and Taupo, which is why people see Tokoroa as an affordable choice. With every other nearby town more expensive, we have seen an ongoing surge of first home buyers & investors buying in Tokoroa.
Tokoroa once had a reputation as a rough town but that has changed long ago. The town boasts good employment and statistically Tokoroa is safer than our big cities. There is great cash flow there for investors too as long as you buy right, which is why we provide the service we do.
Opportunities exist due to a proactive council along with very affordable land prices. Council is very encouraging and has arranged access to a free Business Support Service, which can access government funding, business mentors and navigate consent processes with ease. There is also a lot of industrial land being developed, which will bring new jobs and new opportunities.
There is a massive medical centre with multiple services offered. This is attached to the Hospital, which has ED facilities plus two wards. We also have numerous social services including Raukawa (local Iwi) who offer a range of services plus TCOSS and SWPIC who both offer a complimentary range of services.
Ten minutes north of Tokoroa there is the largest cheese factory (Fonterra) in the Southern Hemisphere, which has recently undergone a $380 million expansion. Tokoroa is located on state highway 1 and is has a core rail link to Port of Tauranga and have an inland container port being established.
There are numerous opportunities in Tokoroa and there are many satisfied clients who were very surprised by how much the town had to offer them.
Tokoroa at a glance
Population
15,024 - census 2018 - 9.1% increase
Tertiary Education
Waiariki Polytechnic
Te Wananga o Aotearoa
Bus Service Daily to Waikato University
Main Industries
Forestry, Farming, Engineering, Rail hub of the South Waikato
Ports and Rail
Tokoroa Rail Terminal Direct to Tauranga Port
Public Transport
The Urban Connector offers a circuit route around Tokoroa township and also makes two return trips each week day from Tokoroa to Tīrau.
Taxis also service the Tokoroa Township
Land Use and Subdividing in Tokoroa*
Currently there are very few empty sections in town with several new houses and relocated houses appearing. There is a new subdivision in East Tokoroa with around 20 new homes planned; half have been built and the remainder are on their way as of February 2019. There is another planned subdivision at the South end of town with about 40 sections planned.
New rules allow that to subdivide in Tokoroa, each resulting site must have a net size of 450m2.
Development fees to subdivide are $3689, not including connection services and any surveyor fees.
Existing residential can have a second dwelling added without subdivision as long as building consents are approved.
*Rules may change at any time, please do your own research when considering a subdivision
The Tokoroa Property Market
Stand-alone homes and units are the standard in Tokoroa and similar to Rotorua, the returns offered in Tokoroa can make the city look like a city of gold to a newcomer property investor. The city is full of great tenants and properties, however there are also a number of problem properties, problem tenants and poor property managers that can make your property investment life a nightmare.... and provide a great opportunity to buy well.
Numerous people have relocated to Tokoroa over the last few years due to affordability meaning there is a lack of available housing. This has lifted prices and rents in Tokoroa.
Common mistakes when investing in Tokoroa, according to Wayne Dickson:
Location: Some unfortunate investors have bought without researching the area and it is a lot harder to fix the location than it is to fix the house! These properties can be difficult to attract and then retain good tenants.
Types of housing: Some investors have been woooed by the appeal of high yields, sometimes with unappealing units with high "potential rents". Knowing the type of housing that works and what choice is available in your chosen area is essential.
Many investors leave money on the table by not understanding what they could achieve with their property by making it more appealing to quality tenants, often without spending very much. In a lower-cost area investors can be reluctant to spend money on their properties.
Site unseen purchases: Some investors have really lost big by buying from an agent who is not local or who works for the vendor. If you are not in Tokoroa and familiar with the market, you need to use someone who is on your side.
Working with a Buyers Agency like iFindProperty is a good way to avoid making mistakes. We have worked for investors new to Tokoroa, many who see the property for the first time after settlement. We have never had an unhappy client and with Wayne's partner Fiona running our preferred Property Management business we plan for long term relationships with our clients.
Maps: Tokoroa | South Waikato Region
Tokoroa Properties for Sale
4 Bedrooms / Garage / Corner section
211 West Parkdale Street, Tokoroa
$449,000
Part brick, aluminium joinery, a large home, massive garaging
71 St Andrews Drive, Tokoroa
$328,000
Articles Featuring Tokoroa
Tokoroa Market Update
Wow, where has the time gone? We nearly through 2018 and the last 12 months has flown by. A fair bit has changed and I have a snapshot of where we are in the market. The new CVs come out in November and the expectation is for a massive increase compared with the 2015 CV we currently have. Read More…
How to Invest in Tokoroa
iFindProperty is a licensed real estate agency and we cover all of the Tokoroa region. Wayne is an investor himself and the best in the business at helping other buy, or sell, Tokoroa investment properties.
Premium Buyers Service: For serious buyers only. Engage an iFindProperty expert to secure you a great investment that meets your criteria.

Limited spaces available.

Property Listings: We advertise Tokoroa listings for sale by email. Join our mailing list for free.
We have bought four properties this year, from different agents. We found Wayne Dickson to be the most helpful agent we have ever come across. He gave us a lot of "above and beyond" help. We live out of town, so the help was greatly appreciated.

Wayne also has a team of contacts for almost anything you can think of property wise, which we have utilised. This has saved us hours of time in building a network for our out of town houses.

I would highly recommend dealing with Wayne to anyone, he knows what he's doing and we feel lucky to have bought a house from him. I would not hesitate to buy from Wayne again in the future.
For Vendors
iFindProperty runs a full-service property sales operation. We are investors also so work with an agent who understands YOU and get great results with minimal disruption to your tenants.
When we decided to sell our investment properties recently, we needed someone we could rely on and trust.

One name came immediately to mind, and as per our expectations, we were not disappointed. Wayne understood our requirements extremely well and carried out our instructions in a professional and timely manner. Liaising with everyone on our behalf, the transactions took place with no hassles, delays or problems.

Wayne provided us with good straightforward service - and always with a smile. I would highly recommend him to anyone wishing to use his services. A+++ rating.
Please contact Wayne below or enquire through our website.
The Tokoroa Team