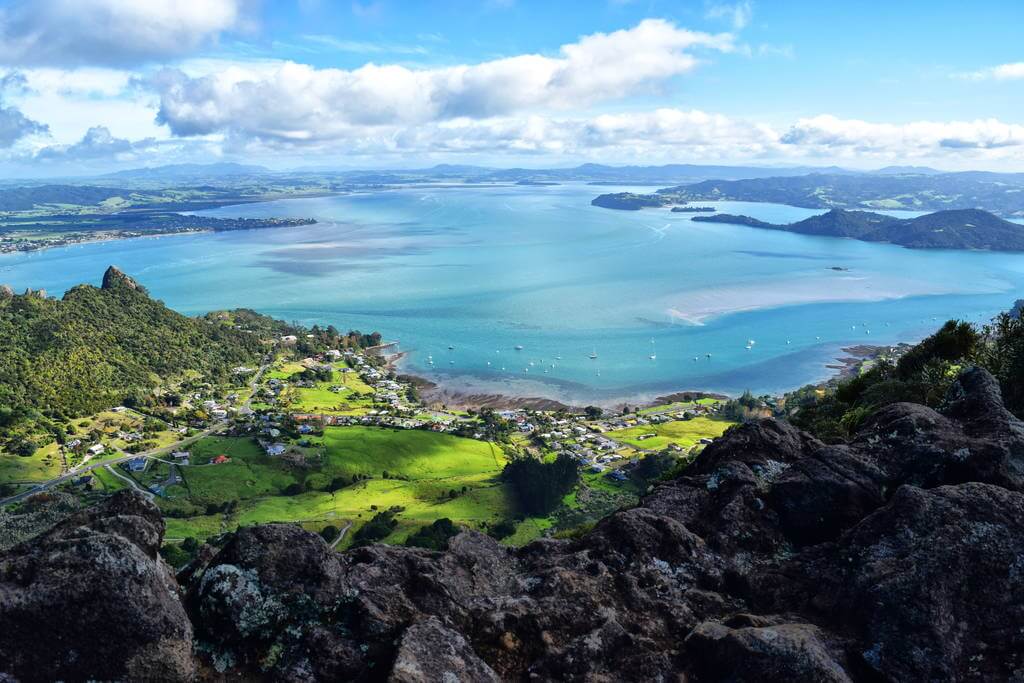 Whangarei is the northernmost city in New Zealand and the regional capital of Northland Region. The city enjoys a sub-tropical climate with warm summers and mild winters. The wider district has a total land area of 2,855 square kilometres and 270 kilometres of coastline. The total population is approximate 87,700.
With spectacular beaches and walks, swim, dive, kayak or build a sandcastle. Enjoy great coffee and food, swing a golf club, cast a fishing line, shop at boutique markets and visit gorgeous galleries and fascinating museums.
Whangarei at a glance
Population

The city population was estimated to be 58,800 in June 2018 *1

The Whangarei district has a population of 87,000 and this is predicted to exceed 100,000 by 2028, rising to 115,000 by 2038.

Tertiary Education
Northtec, University of Auckland Education Faculty and Te Wananga o Aotearoa
Main Industries
Manufacturing, Dairy, Horticulture, Manufacturing; Retail sector, Construction, Tourism Marsden Point, south of the city and on the south head of the Whangarei harbour is the location of the countries only oil refinery and a significant employer in the area.

Adjacent to the refinery is Northport. Plans to add a container port are under discussion, linked by rail to Auckland. The extensive, flat undeveloped land around Northport is a suggested solution to excess population growth in Auckland and the associated lack of industrial land.

The Hundertwasser Art Centre with Wairau Māori Art Gallery is under construction and expected to add the appeal of the area to both domestic and international tourists , allowing Whangarei to increase its share of the tourism business that passes through the region.
Rail
Whangarei is connected to Auckland by rail. The line carries freight only; public passenger transport is by long-distance bus.
Air
Whangarei Airport is located 7.4 kilometres (4.6 mi) southeast of the city centre, in the suburb of Onerahi.
Road
Northland Regional Council operates the CityLink bus service. This bus service runs six urban bus routes, with bicycle racks.
Property Market Update - March 2019
The City is experiencing significant growth and the building of a new Art centre ("the Hundertwasser") will add to the enhancements made in the Town Basin area around the River that runs through town and into the beautiful harbour.  This development is also going to add a significant number of specialist jobs and these will attract new residents to the area.
This exciting community led project is well described in this video:
With numerous spectacular beaches and proximity to the world acclaimed Tutukaka cost, water activities both in the harbour and along the coast are a popular pastime for locals and a major drawcard for visitors.
Looking at things long term for investors, it's clear right away that rental and property prices in Whangarei have been rising at a rate above the national average. There is a strong rental demand for 2-4 bedroom homes and strong competition at rental viewings. Whangarei is continuing to grow and the amount of accommodation is already under pressure. This will provide support for good rental rates of return and opportunities to add value to existing properties.
Maps: Whangarei
Articles Featuring Whangarei
Whangarei Market Update August 2020
Like most of the country, Whangarei is experiencing a low number of properties listed for sale and a high number of active purchasers. The stats I have seen do not give any hope that this is going to change in the short term. Read More…
Whangarei Market Update - September 2019
Whangarei preparing for significant growth. Council proposing to permit high-density housing and a large number of projects are in the planning stages for Whangarei. Yields remain solid as rental shortage persists. Read More…
How to Invest in Whangarei
iFindProperty is a licensed real estate agency. Penny is an investor herself and the best in the business at helping other buy, or sell, Whangarei investment properties.
For Vendors
iFindProperty runs a full-service property sales operation. Work with an agent who understands property investment and how to market your property to other investors, in a way that doesn't upset your tenants!
Please contact Penny below or enquire through our website.
The Whangarei Team