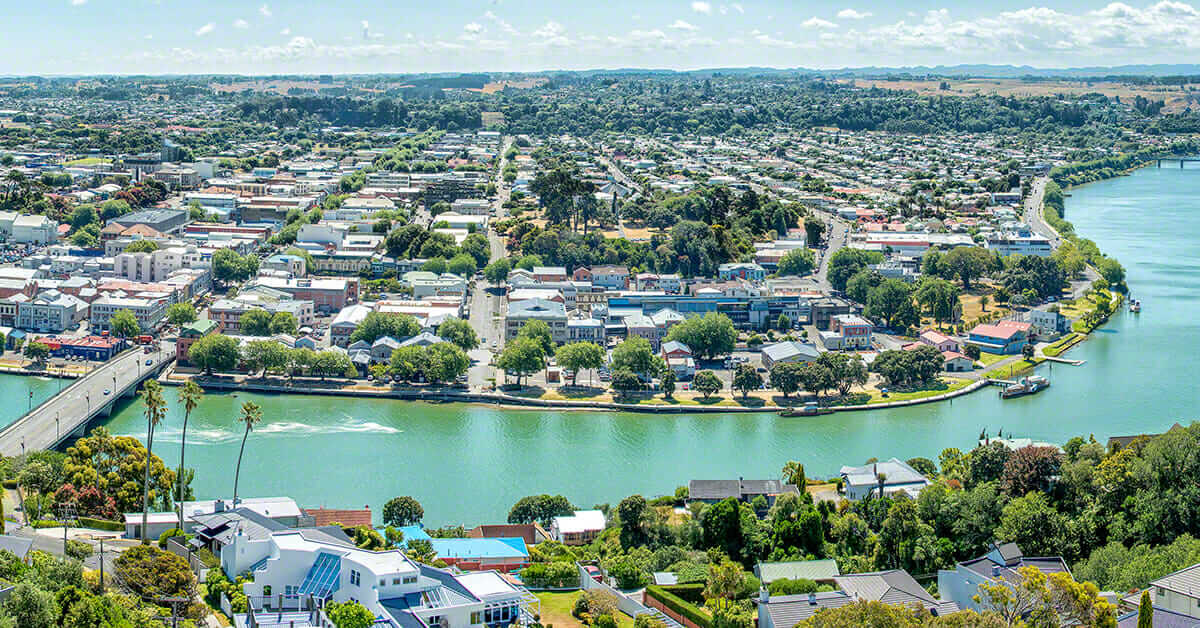 Whanganui, dubbed the River city is centrally located on the Western freight route between Auckland and Wellington on the banks of the Whanganui river. Situated in the mighty Manawatu within a 50-minute drive to Palmerston North, its easily accessible via regional airline, Air Chathams from Wellington and Auckland. The local airport is also home to an International commercial pilot academy training 200 students annually.
For a population of close to 45,000, the education on offer is world class. Whanganui has 7 secondary schools and is home to Whanganui Collegiate, regarded as one of New Zealand's finest co-educational boarding schools. Whanganui High school is a state funded co-ed school of 1600 students, and the largest school in the lower North Island and in the top 30 largest schools in New Zealand. UCOL, established in 1902 specialises in Applied engineering, Health, Sciences and Business.
The Provincial growth fund has invested substantially in Kiwirail to reestablish rail services allowing commercial freight to Wellington, confirming the massive potential of primary export trade in the Taranaki-Whanganui area such as the Open country dairy facility. Whanganui Port is also being revitalised with the goal to create an extensive area for value added specialist manufacturing and attractive investment prospect for marine and logistics related industries.
Whanganui's central location and easy trade route have ear marked the area as a crossroads for critical road and rail corridors important for regional and national economic development. This will provide freight support for the recently developed 14 ha Industrial estate zoned for heavy industry including manufacturing and already occupied by export companies like manufacturing wholesaler Parkwood Doors and a $1.7 million medical centre.
The existing infrastructure was established in the 1960's serving the Port of Whanganui and local industrial sites. The recent investment and subsequent reopening in 2011 are exciting additions to the rejuvenation of the area to its hey day and has solidified the commitment from central and local government to attracting business into the wider Whanganui area.
This beautiful city, well known for its heritage architecture and home to a rich and vibrant arts scene, is well regarded for lifestyle living. The central city is 10 minutes drive from its own rugged West coast beach at Castlecliff, a suburb that has seen property values rocket since 2002. This area is well-known for boating, fishing and recreational activity.
Property Market Update - May 2019
The Whanganui area as a whole has experienced massive growth, a statistic reflective of one of the most affordable cities nationally as this region plays catch up due to a huge shortage of rentable property.
Median house prices sit less than half the national average which directly translates into affordable housing, and combining this with a strong rental market, the attractive low entry point and good yields continue to attract investors. The popularity of the city as an affordable place to live is reflected in the area's recent populations rises. International migration has supported steady increases since 2014 and some of the highest annual increases in 2018 are a clear sign that people see Whanganui as an attractive place to live.
Suburbs
Bastia Hill / Durie Hill

Some great views
Low density residential area
2 schools
Family living
Whanganui Central / Cooks Garden

Mixture of units / houses, old/renovated
Castlecliff / Balgownie

Coastal
Traditionally low socio-economic
Price ranges from $150k to new beach mansions $1.25m
Port & rail revitalisation
Industrial park
Higher yields
Fordell

Rural, 15 minutes south of Whanganui
Gonville

Typically, low socio-economic
Some State Housing
Aramoho
Typically, low socio-economic

Alongside West side of river (non flooding side)

A lot of ex-state housing 1950's era

Higher yields

Mosston
Rural connecting Castlecliff & Springvale

Lifestyle property

2 retirement villages

Otamatea
Combination of rural, new subdivision & outskirts of St Johns Hill/Springvale

Putiki
Rural/Lifestyle

Southside of Whanganui, beyond the river

5 minutes to airport, not really close to other amenities

Springvale
Middle income suburb, working families

More new builds in this suburb

St Johns Hill
Sought after suburb for higher income families

Tawhero
Mixture of low socio-economic and bordering Springvale middle income

Fitzherbert extension will connect into Mosston Rd 2020

Whanganui East
Careful about property near river – floodzone

Mixture of low-middle income residential

High concentration of schools

Maps: Whanganui
Articles Featuring Whanganui
Whanganui Market Update - May 2019
The Whanganui market continues this late-cycle run, echoing the characteristics of regional NZ. Home buyers are the main culprits, removing valuable rentable housing stock. This has had the inevitable effect of pushing rents higher. Read More…
How to Invest in Whanganui
iFindProperty is a licensed real estate agency. Kate & Kirsty are investors themselves and the best in the business at helping others buy, or sell, Whanganui investment properties.
For Vendors
iFindProperty runs a full-service property sales operation. Work with an agent who understands property investment and how to market your property to other investors, in a way that doesn't upset your tenants!
Please contact Kate below or enquire through our website.
The Whanganui Team