Small City Benefits, Big City Ambition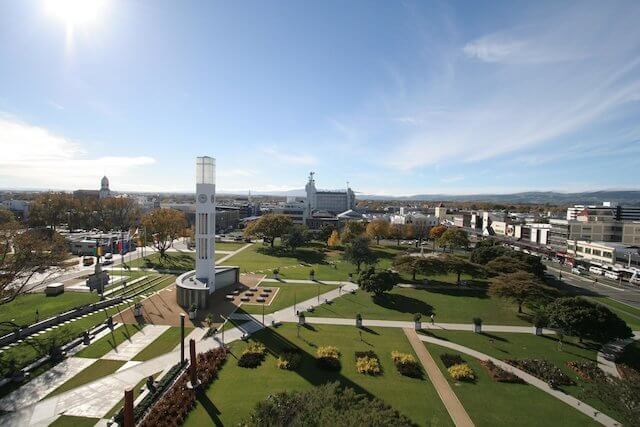 Palmerston North is strategically located at the geographic centre of New Zealand offering easy access to the lower North Island and Wellington. With lower operational costs underpinning affordable living, minimal commute times for an enviable work-life balance and a strong, stable economy with developing industries, the growth potential of Palmerston North is apparent.  As it stands, "Palmy" is one of the last affordable cities in the country, so for the cashflow driven investor with an eye for a growth market, this city must be on your radar.
Palmerston North is at the heart of the Manawatū district within central New Zealand and is the economic and cultural centre of the Manawatū-Whanganui region. The city has excellent fundamentals for a diverse property investment portfolio. Firstly, it offers consistent employment opportunities to protect against market fluctuations. The city was founded on the agricultural sector which continues to thrive and is an important producer for our meat and dairy export industries. A vibrant student population and entrenched defence sector also contribute to a robust, reliable economy. Secondly, it is a city that is not only ambitious about its growth - it has government and private sector funding behind it.
Central Government has identified Manawatu-Whanganui as a surge region and with this growth brings significant opportunities around labour shortages, housing and rental shortages and rising house prices due to supply and demand. Identifying markets where the demand for owner occupier and rental dwellings has robust, incremental growth is key to realising the capital and cash-flow potential of your property portfolio.
A thriving Palmerston North is attracting investment into future-focused industries. The region is a national centre of excellence for food innovation and agribusiness research. Food HQ constructed at Massey University, is leading the way in agri-food science and agri-tech. With $250 million to be invested in Food HQ over the upcoming years and the high concentration of world-class research and business collaboration on offer, Palmerston North is on track to be the Southern Hemisphere's powerhouse in the increasingly vital food sector.
Palmerston North acts as a central hub for the North Island with highway, rail and air connections to major centres and regions in all directions, enabling a successful distribution and logistics centre.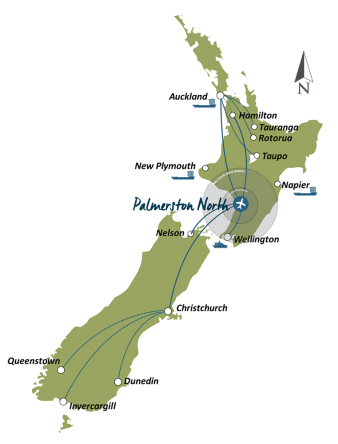 The region already shifts six times the freight of Taranaki and two and half times as much as Wellington. Future development will enable even greater opportunity in this critical sector. The region will see three-billion dollars' worth of commercial and central government investment in infrastructure and construction which is underpinning the region's rate of growth. Construction of the new KiwiRail regional freight hub, development of a Regional Ring Road and completion in 2020 of an expressway linking Levin to Wellington will be game-changers making it easier to move freight through the region.

The mighty Manawatu is a great place to live, work, do business, study and is ripe for investment potential. Importantly when future proofing your investment, the region's growth is supported and celebrated by an award-winning planning team focused on developing an environment that enables outstanding quality of life, while providing a sturdy foundation for business investment and population growth.
Palmerston North at a glance
| | |
| --- | --- |
| Population | The region's population is $87,300 as of April 2019. |
| Tertiary Education | Massey University, IPU - Institute of the Pacific United, UCOL - University College of Learning |
| Main Industries | Agriculture underpins the region's economy alongside tertiary education, health and defence. Growth industries in agri-business, food-science, logistics and construction. |
| Ports & Rail | West coast railway linking the city to Wellington. |
| Air | Whangarei Airport is located 7.4 kilometres (4.6 mi) southeast of the city centre, in the suburb of Onerahi. |
| Road | Inner city bus and daily commuter rail transport to Wellington. |
Property Market Update - November 2020
The Manawatu region continues its upward beat achieving strong median year-on-year growth for October. Palmerston North City, Horowhenua and Tararua being standout performers – both achieving Record Median Sale Prices.
The region has one of NZ's lowest Days to Sell at only 24! Mush less than the 10-year average for October of 35 days. It suffers from low stock levels (a common theme across the country). There were 6 weeks of inventory in October 2020, two weeks less than the same time last year (REINZ Monthly Property Report – Oct 2020). The current state of the market means purchasers have to really be on top of their game and active in the marketplace, or risk missing out on potential investment opportunities.
Sales counts for Manawatu, Horowhenua and Rangitikei were down 8.2% in October 2019.
Record median prices have been seen in many of the regions' territories:
Palmerston North City - up 31.8% to $619,500 (record) from $470,000 same time last year
Manawatu – up 15.7% to $515,000 from $445,000
Rangitikei – up 32.7% to $365,000 from $275,000
Horowhenua - up 25.7% to $470,000 (record) from $375,000
Tararua – up 37.5% to $330,000 (record) from $240,000
Overall - strong regional median sales growth at +25.8% versus October 2019
Although the region has had record high growth, affordability remains very attractive when compared to other parts of New Zealand; NZ Median $725k (record), Auckland $1,000k (record), Wellington City $876k (record), Hamilton $673k, Tauranga $810k (record), Napier $620k.
Despite the uncertainties with COVID-19 the positive regional economic outlook remains unchanged. Palmerston North city the business hub of the Manawatu region has been cushioned from the impacts of COVID-19 by a high government share of salaries and wages (38% share) and low dependency on international travel, most travel to the region comes from domestic tourism as well as business. The regions economy is well known for its stability and is buoyed by agriculture and education. The city's housing market has long had a reputation for being steady but more recently has experienced stellar growth.
The city has a growing population and is looking forward to several large-scale construction and commercial investment projects. The region is about to receive significant fiscal stimulus from the government for the Manawatu Gorge replacement motorway, expected to be completed by 2024, Ohakea Airforce base upgrade and KiwiRail freight hub. Total investment into the region is expected to be between $2B to $4B bringing with it many new jobs, which will increase demand for housing in a market already suffering from short supply. This demand has also caused rents to rise in-line with property values.
On the investment front, low supply is making it harder to secure investment property and competition is strong, with most buyers finding themselves in multi-offer situations. You must act quickly and being on the ground is important.
Palmerston North Property for Sale
How to Invest in Palmerston North
iFindProperty is a licensed real estate agency. Simon is an investor himself and the best in the business at helping other buy, or sell, Palmerston North investment properties.
Premium Buyers Service: Engage our Palmerston North Property Investment Specialist, Luke, to hit the pavement and find a property that meets all of YOUR criteria.
Property Listings: We advertise Palmerston North listings for sale by email. Join our mailing list for free.
For Vendors
iFindProperty runs a full-service property sales operation. Work with an agent who understands property investment and how to market your property to other investors, in a way that doesn't upset your tenants!
Please contact Simon below or enquire through our website.
The Palmerston North Team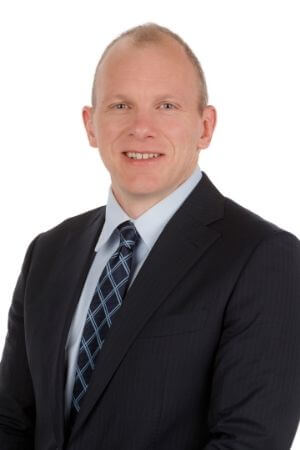 FREE Course and GREAT Deals
Members hear about new deals FIRST and have access to our FREE online property investment course.
Not seeing what you want?
Don't wait for the market to bring a deal to you, we will help you go out and get it!
Investor Case Studies
Real stories from clients with different goals and strategies about how they invested successfully.